From the monthly archives: November 2012
We put up the Christmas tree last weekend. It was such a great weekend. We didn't go ANYWHERE. We did NO SHOPPING. We just stayed at home. We didn't even make a turkey for Thanksgiving Day, just a roasted chicken because it was the four of us. Though I did make little mini-apple pies, that was fun.
Every year gets better and better with kids, I tell you. They are more fun, more verbal (though being more opinionated goes right along with that). Their excitement over putting up the Christmas decorations was amazing this year. We put on the Christmas carols, some Herb Alpert (this version of Winter Wonderland is my all-time favorite, by the way. YOU'RE WELCOME!), and…
Continue Reading

→
I'm going to be in the Seattle area next week and I'm excited to announce that I'll be at Dry Goods Design in Ballard on Thursday evening, December 6th, to help celebrate the opening of their new make*do*mend studio space. A sewing studio full of Berninas??? Awesome!!
Here's a blurb from Dry Goods: "December 6, 2012 – Open Studio Night with special guest Rae Hoekstra of made-by-rae.com and creator of the famed Washi Dress Pattern. Join us for our first studio night in the new make*do*mend at Drygoods Design space! Rae will be speaking to sewing clothing, tips and tricks on the Washi Dress, fun variations and more. You will also get the…
Continue Reading

→
Thanks for entering! A winner will be announced/contacted shortly.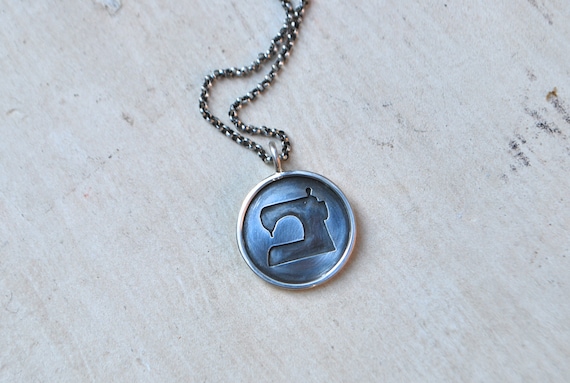 images courtesy of B-side Metalworks
OK, so before we talk about the giveaway, I have to show you my sewing machine charm. Love it. I was so excited when my friend-in-real-life Christy (and, also: blog sponsor) asked if I was interested in collaborating with her on a sewing-related jewelry design for her shop B-side Metalworks. Yes please! I drew up a few sewing machine designs and this one ended being my favorite, so Christy turned it into a sweet little charm (they're available in her shop now as well).
I seriously wear this thing all. the. time. It's super high quality but still…
Continue Reading

→
Never fond of finishing what I start before the next thing, I pooped out before I had a chance to write all of the "Best of Quilt Market" posts that I wanted to…but I can't stop thinking about a few other cool things that were at Quilt Market that must see the Light of Blog. Anna Maria's booth was one of them!
You already know I love Anna Maria Horner's fabric designs (hello shower curtain?? And to the two or three ladies who keep emailing me repeatedly to ask if I will sell it, I'm very sorry but it's not for sale). Her latest line, Field Study, is currently vying for the award of "favorite AMH fabric line" in my heart (with Good…
Continue Reading

→
I am like a proud mother hen, y'all.
I can't take much of the credit though; Elli reformatted the original digital layout for print, Lauren designed the cover, and Jessica did just about everything else required to ship these out to all the shops that wanted them: taking orders, emailing shops, sending invoices, and so on. I made Jessica put "Director of Print Operations" on her email signature. Ostentatious titles amuse me.
There are two full-sized one-sided pattern sheets, so you can either trace or GASP! cut your pieces out (I never cut into my pattern pages — see this post for an overview of my sewing process — but you do what you have to do).
The instructions are also…
Continue Reading

→
First can I just say, the Gulf of Mexico at sunset is quite possibly the best backdrop for photos that I have ever had. These pics are all unedited (save a couple of crops), taken with a cheap 50 mm lens, no tricks, so fun. Snapping pictures of my daughter playing happily on the beach in something cute I made her in less than a half hour THAT SHE WILL WEAR WITHOUT A TANTRUM = heavenly.
Second. I have owned this Heather Ross Far Far Away Double gauze for more than three years, but it wasn't until I chopped a bunch of it up for a rainbow quilt that I felt really liberated to really dig into it. A quilt for Clementine was…
Continue Reading

→
OK, so it's a long name, but it's fitting: You take a bunch of shirts or boxers from dad's closet and chop them up, then put them back together to make a great pair kid shorts. I should have posted this eons ago, but honestly I just plain forgot about it *facepalm*. Sometimes that just happens around here. You know what made me think of it? The fact that he's wearing them, today, in Florida (we're here on our annual family vacay). He loves these shorts, mostly because everything in them used to be his daddy's. Plus they're supercomfy. Double yay.
This tutorial was published earlier this fall as part of the Fall Issue of Petit Purls, a great online kids' knitting mag…
Continue Reading

→
It's been awhile since I talked your ear off, so guess what? You're in for a bit of blahdeeblahdeeblah today! Yay!!
I am embarrassed to admit how many times I've written and then deleted this post. It's hard to write about your life without sounding really cheesy, and mostly I would think to myself, "why write about life and blogging and balance when it's been written about SO many times before?" Then I realized, duh, you probably wouldn't be reading this blog if you didn't care about what I have to say in some small way, so why not give it a try? I want to talk a little first about how blogging turned into sort of a job for me, and then how on…
Continue Reading

→
I had a truly wonderful weekend, mostly due to the fact that we didn't go anywhere. I'd been out of town two weekends in a row and sometimes you just want to stay home, you know? Do laundry, clean the bathrooms, make the rest of the house look semi-clean. I even found a little time to start on some new projects. A rainbow quilt for Clementine (above), a doll quilt for her doll with some of the scraps (below), and those colorful pom-poms. I love pom-poms so much, don't you? I cranked out that little pile while Mr Rae and I watched a movie Saturday night. Not sure exactly what they will turn into yet, but I do know that Christmas is coming!!!
Continue Reading

→
She was a rainbow cloud (see earlier discussion here). I told her she could have a very big piece of candy if she wore it.
And we borrowed Elliot's costume from Karen, whose 14-year old son wore it when he was Elliot's age. That's right, Sonic is old.
UPDATED TO ADD:
Here's a pinnable version of the costume if you're interested (someone asked, so I figured it was easy enough to put up a new head-less pic for Pinterest purposes):
By the way, that's a chopped up hula-hoop inside, to hold the curve in place.
Continue Reading

→