Currently viewing the category: "for Rae"
Thanks for all the love on my arrow dress you guys!!! I'm so glad you liked it. Here's another garment I made to wear around in Portland for Quilt Market, a skirt with pockets from my friend Rashida Coleman-Hale's Tsuru line for Cloud9 that's out right now. If you saw all of my Tsuru Geranium Dress posts a couple months ago, so you already know how much I love this line of fabric. Now you'll get to see all of the fun stuff I'm making for myself with the yardage Cloud9 sent me as a thank you for that collaboration. This one is with the "1000 Cranes" print that has been so popular.
Continue Reading

→
I just arrived in Portland today for Quilt Market! Quilt Market is a trade show for the quilting and sewing industry to show off their new fabric lines and products to shop owners and press. In addition to seeing The Fabrics (one of my favorite reasons to go!) I get to meet tons of great people who are all passionate about sewing. I know this may be strange for me to say as a person whose business is almost entirely online, but there is still absolutely NO replacement for meeting people face to face and talking shop in person. I have gotten invaluable advice, feedback and information at each Quilt Market I have attended which in turn has really helped me grow my…
Continue Reading

→
UPDATE: The Washi Dress sewing pattern is now available here
It's been just over a month since I posted the Washi Dress and I can tell from the emails and comments I've been getting that some of you are starting to get antsy for the pattern. I'm happy to report that Elli (my uber-talented graphics queen) and I are making good progress. I know it seems slow, but it must. be. perfect. Six sizes now instead of five (upper chest roughly 41″ on the largest size), so that's good too. Slow and steady wins the race, I say. No good to put out something that I don't feel is totally excellent. I also talked to Rashida Coleman-Hale (designer of…
Continue Reading

→
I had the most AMAZING time in Atlanta this past weekend!! I can't wait to show you photos. In the meantime, I've got to post some of the backlog of stuff I've been making for myself in the last couple weeks because I have been a busy busy little bee when it comes to "selfish sewing." Here's what I wore Saturday for our "Handmade Garment Success" talk and the afternoon workshop at Whipstitch:
I can hear you thinking "why is she sewing dresses when she should be sewing tops?!?" Yes I know. And my only answer to that is: you know how once you've really truly committed to do one thing, you suddenly have a great fantastic totally…
Continue Reading

→
Another project started in New York at the Heather Ross workshop, made with Anna Maria Horner's Little Folks voile (also used for this Pierrot top for Clementine) and a variation of this basic pattern, just a very simple design I came up with that I'm starting to grow very attached to.
I wanted some little pintucks to play with the plaid a little bit (maybe this isn't technically "plaid"…but you still get what I'm talking about?), it breaks up the pattern just enough to be interesting without being too distracting.
I can't think of anything else to say about this tunic. Which is odd because normally I just blather on and on until I realize I've been puttering…
Continue Reading

→
Thanks for all of the great suggestions on machines and ideas for sewing with Elliot on the last post! It's so fun to hear about your own experiences and what you've done with your own kids. That could be a whole new blog theme, for goodness sake.
I have been sewing so much this week that I've really been slacking on the blogging, sorry about that (it's always a tricky balance). I have a couple of projects that I just finished that were started in New York for Heather Ross' Weekend Sewing Workshop that I want to show you that I'll blog about next week. I also bought some new fabric in NYC and had to make this as soon as…
Continue Reading

→
I really love sewing with knits. It used to be more of a fierce loathing, but I've since realized that this has less to do with some innate fault of knit fabric or my own skills, and more to do with the equipment I was using to sew with said knits (or perhaps I should say, *trying* to sew). I don't want to blather on about that because believe me I have a whole other post in my head about that very topic, but I will say that I do now have a serger so the knit projects go super-quick and are v. satisfying.
Enter the Knit Fabric of My Dreams: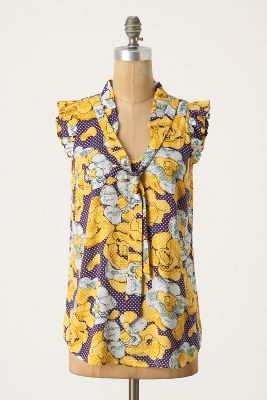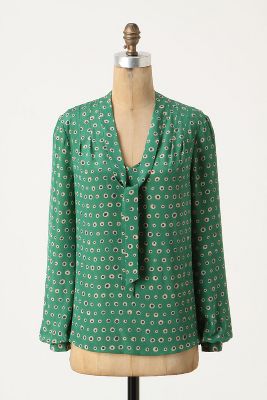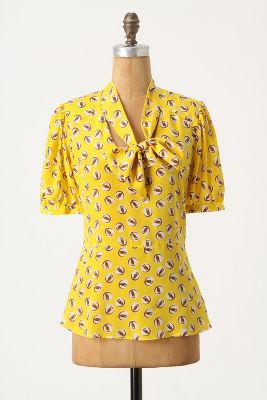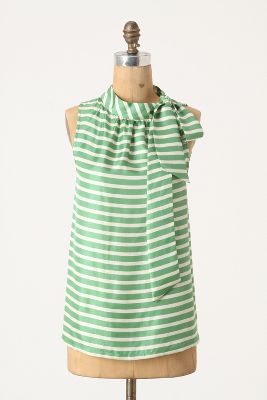 I'm pretty sure my grandma wore variations of each of these tops with white polyester pants back in the eighties. Anthro seems to be pushing the look pretty hard, it's just that I have yet to see something like this actually walking down the street on a real person. Is this back? If it is, I'm thinking it might look really nice in one of these two fabrics of mine:
What say ye?
Continue Reading

→
I made a skirt for me!!!
Like most of my selfish-sewing projects, it was supposed to be an utterly simple quick sew (I mean, it's basically two pieces of fabric wrapped around my body), but inevitably as the process unfolded it became a little more complicated than it was supposed to. I didn't want any elastic in the waistband so I had to put in a zipper — which normally is not that difficult for me — but the first zipper that I used was too short and the resulting skirt did not actually fit over my hips. Oops! *insert un-sewing and swearing*
As you can see though I eventually managed to muddle through and produce something that fits.
Ever since I purchased…
Continue Reading

→
seller's program
I offer licenses for handmade sellers who would like to sell items made with my patterns on a small scale. To see all of the available licenses, visit the
pattern page
. For more information on the seller's program, please visit
the seller's page
.

My free patterns or tutorials are intended for personal use only. Thanks for respecting my wishes and supporting my shop!

Too busy to sew? Purchase a ready-made item from one of these sellers:
Big Butt Baby Pants Sellers List
Bonsai Bag Sellers List
Buttercup Bag Sellers List
Charlie Tunic Sellers List
Itty Bitty Baby Dress Sellers List
Lickety Split Bag Sellers List
Peekaboo Bonnet Sellers List
Pierrot Tunic Sellers List
Showoff Bag Sellers List
Toddler Backpack Sellers List

Please support the sellers listed here!
grab a badge
Copy and paste the button code below into an HTML widget or post editor:
Archives
All entries, chronologically...
copyright
2007-2013 Rae Hoekstra. All Rights Reserved. This is my original work unless otherwise indicated. DO NOT USE PICTURES OF MY KIDS. If you decide to use other photographs from this blog, kindly link back and give clear and proper photo credit. Please ask permission before using other content and designs. OH! and did I mention that pictures of my kids are OFF LIMITS?!? Thanks!
Powered by WordPress