Thanks for entering! A winner will be announced/contacted shortly.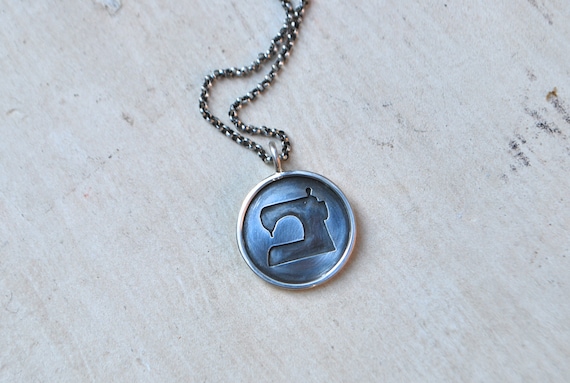 images courtesy of B-side Metalworks
OK, so before we talk about the giveaway, I have to show you my sewing machine charm. Love it. I was so excited when my friend-in-real-life Christy (and, also: blog sponsor) asked if I was interested in collaborating with her on a sewing-related jewelry design for her shop B-side Metalworks. Yes please! I drew up a few sewing machine designs and this one ended being my favorite, so Christy turned it into a sweet little charm (they're available in her shop now as well).
I seriously wear this thing all. the. time. It's super high quality but still casual enough to wear every day. Perfect combination. The little sewing machine is cut out entirely by hand which I find totally amazing. I also bought two extra initial charms that say "C" and "E" that I wear along with the sewing machine charm. I love wearing little symbols of my "loves" around my neck (though I still need to get Mr Rae's initial. Ahem. Will work on that. hee oops. Love you babe!!!).
My other favorite purchase from Christy has been these fallen leaves hoops, which I wore in this post. I like that they're not too fancy for every day and they instantly kick it up a notch when I wear them. Hot-cha-cha.
and I love my copper hoops, too, you can see a peek at those in the original Washi Dress post if you look carefully. It's like Where's Waldo, with jewelry.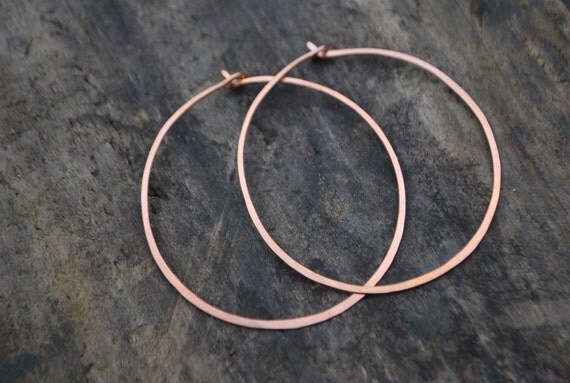 Anyway, I'm thrilled to have B-side Metalworks as a sponsor and so happy to be able to give away a $50 gift card to the shop today! Every piece that Christy makes is completely hand-made, from cutting out and soldering the frames onto her circular charms, to hand-sawing the highly-intricate sewing machine shape. She hand-stamps all letters and names for custom orders, and shapes like the leaves are all hand cut and shaped. The result is one-of-a-kind pieces that are more beautiful and valuable than your run-of-the-mill stamped jewelry. Some more pretty things from her shop:
All found in the B-Side Metalworks shop
Today Christy is giving away a $50 gift card to her shop to one lucky winner, as well as 10% off for one week to everyone!
To enter to win a $50 gift card to the B-side Metalworks shop, leave ONE comment on this post before it closes on Thursday at 9 pm Eastern. I'll choose a random winner and contact via email. You must be 18 or older to enter. Void where prohibited by law.
You can use the gift code MadeByRae10off in the B-side shop and get 10% off anytime between today and next Tuesday, December 4th, 2012. Just enter the code in the coupon code section at checkout (click on "apply shop coupon code" and then the coupon box will appear). Don't forget, because it's good for just one week!